It is common in Sweden that attracive places, for instance an archipelago cottage or a mountain cabin, are shared between a couple of families or rented in various periods.
A relative of mine asked if I could recommend some simple booking system for a house where his family is part owner.
The different families are divided into more family groups and have different priorities after a certain schedule.
The requirement is that each family should be able to see the total booking situation and be able to book (and cancel) one or more period within it´s family group.
The users should be able to register and then be approved by an administrator for his family group. Registrations and booking shall be confirmed by email.
I was searching the internet for a system matching these requirement but didn't find anything suitable, After some thinking I judged this as an interesting development project of more common interest and is now offering it to interested buyers.
The bookning system My Bookings has the following properties:
Developed with PHP 5
Uses MySQL data base
Olimited number of users
Log in with user name and password
Free number of user groups
Free names of user groups
Configurable header image, header text and colors
Bookings with start- and enddates, number of persons personer and comments.
Booking overview for three months at a time, both grafic and text.
Administrative functions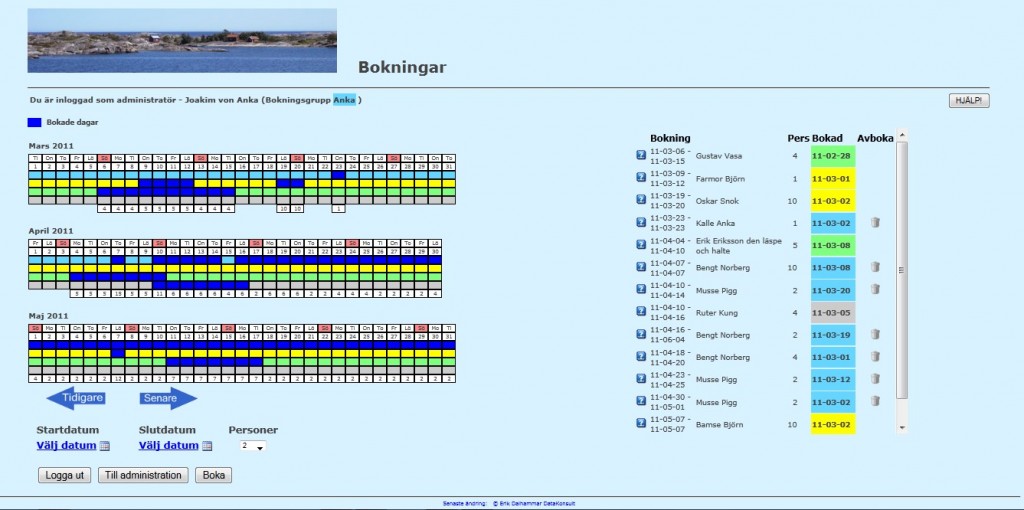 There is also a version of the booking system where regular users make a reservation which is late confirmed by an administrator and then converted into a booking.
A demo version (in swedish) of My Bookings is available here.
To log in as administrator: User name JvA and password pengar.
To log in as regular user: User name Mickey and password mouse.
Please send me comments and suggestions for improvments, use Contacts for this.